Guaranteed Transfer Program
A Timeshare makes sense if you can use it every year.
But when something happens and you just aren't able to get away as often as you thought, that's when it makes financial sense to get rid of your ownership. 
Selling a timeshare can be difficult
Unfortunately, finding a new owner can be very difficult. Resale websites are often overrun with inventory and buyers are weary of getting scammed, so only a few ownership will sell for even a fraction of their original price, most will be virtually given away. If you are lucky enough to find a new owner, you'll still have to navigate the transfer of your ownership or hire a company like Resort Closings, Inc. to take care of it for you. 
Avoid the hassle with our program
So if you've tried to sell and failed or if you just want to avoid the hassles of the resale market for little to no reward, then the Guaranteed Transfer Program is right for you. Our team has found new homes for over 50,000 timeshare, we'll handle all the marketing and negotiation, plus we'll ensure the deed is recorded properly with the relevant county, and verify ownership is transferred with the resort.  
No charge till your transfer is done
You'll get our fair pricing guarantee, that means we base our fee on how difficult it will be for us to find a new owner, which saves most owners hundreds if not thousands of dollars when compared to the other "Exit" options. Best of all, we don't charge anything upfront, you won't pay us until our work is done. 
We are ready to Help
Use our contact form or call today at 1-800-965-6565 to determine the best option for your unwanted timeshare ownership.
The Timeshare Specialists Difference
Timeshare Specialists has been a leader in Timeshare Divestment since 2014, we've helped thousands of owners just like you find the right way to get out of timeshare ownership. Our goal is to be sure you make the right decision so we'll assess your ownership and let you know your options.
If you choose one of our guaranteed options, we promise you'll never pay another fee and since we don't charge up front, there's zero risk to starting one of our programs. Our Award winning team is ready to help you today!

Better Business Bureau: torch Award for Ethics
Excellent Rating on TrustPilot
ABA 2020 Gold: Corporate social Responsibility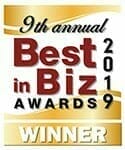 Best in Biz 2019 Gold: Corporate social responsibility
ABA 2019 Bronze: Corporate Social Responsibility