Timeshare Con-man Impersonates Lawyer & 'Key to Vacation Club'
Our scam-buster team came across a timeshare-con with a new twist, impersonating a licensed attorney. Impersonating legitimate companies and individuals (brokers, escrow agents, attorneys, etc.) is the latest trend in timeshare scams. The scammers use similar brand name email addresses and website URLs to deceive their victims (one scammer replicated our entire website, click here to learn about that timeshare scam!).
Martin was contacted by "Mark Lopez of Key to Vacation Travel" with an offer to buy his unit at Pueblo Bonito Resort and Spa.  Lopez was also hiding behind a legitimate company, claiming to be an agent of Key to Vacation Travel.  Like any good Mexican timeshare resale scam, the heist goes something like this: for the sale to commence the seller must pay fees required by the Mexican government and when these fees are paid the broker will send the proceeds of the seller.  In this particular case, the generous "broker" was going to wave the commission fee of 8%!
How much money was Martin offered for his timeshare, you might wonder? … $110,670.00
Lopez was only asking him to pay the $5,533.50 in fees, which would seem reasonable if you were poised to receive nearly 100K in profit.
Next, Lopez introduces the attorney.
Behind the scenes, one of the scammers found a licensed attorney whose identity they felt would be easy to use.  Sheila G. Kolbe was the target of their identity scam. Kolbe is a licensed attorney but does not practice in the state of WI as stated on the fake documents. The scammers found an office building for sale in Appleton, WI  and used that address as her place of business. The documents also listed a URL of www.leadinglaw.com, which is simply an online directory for attorneys across the U.S.A, not the address of an actual law firm.  The alleged representative from the legal office communicating with Martin was
"Sophia Sotomayor".
The attorney was being used to give Martin the security of knowing that a legal professional would hold his funds in escrow and distribute them according to the agreement between Martin and Key to Vacation Travel.  The attorney would also notarize Martin's transfer documents. Notarization of transfer documents is a requirement for sale of all Mexican timeshares.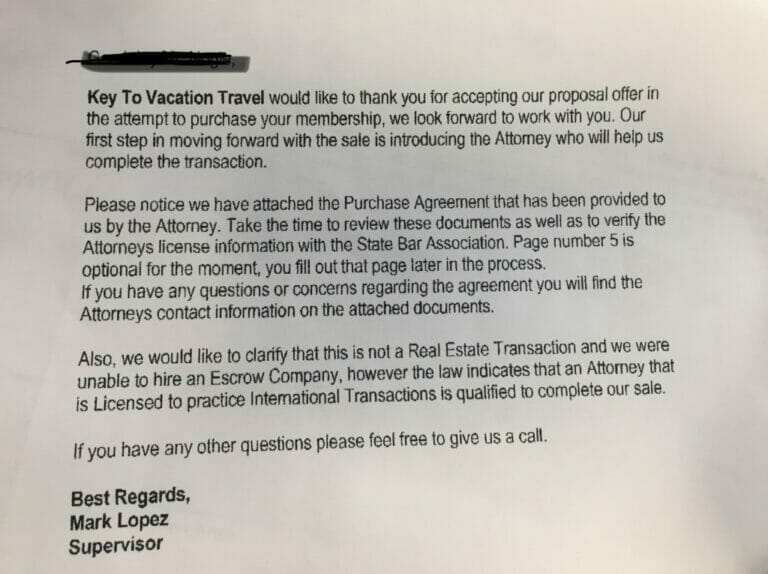 If that sounds preposterous, well it is.  And Martin knew it. So he did some digging on the internet and came across our Scam Hotline.
Martin sent us the documents he received and a copy of his correspondence with Lopez and Sotomayor.
We knew immediately it was a scam due to the outrageous sales price of 110K, and it didn't take long for us to suss out the other fraudulent elements of this case.  Martin did not send a dime to these scammers and because he contacted us we can now post this information online to help other timeshare owners avoid similar situations.
The internet makes it easier than ever to conduct fraud, so please be diligent when dealing with people you don't know, nor have you contacted, who are attempting to buy your timeshare.
Our services are free of charge and we can help you avoid scammers simply by scheduling a call with us to review the purchase offer.  Please visit 
www.timesharescamhotline.com
 for more details.